Salmon Evolution started work today on the first of three phases for what will be one of Europe's largest fish farms on land at Indre Harøy in Hustadvik local authority. The company thereby passed an important milestone.
The idea of establishing an aquaculture facility in an abandoned quarry emerged several years ago, when the instigators of the scheme saw that the site would be perfect for land-based salmon farming.
Founders Ingjarl Skarvøy, Per Olav Mevold, Kristofer Reiten and Jonny Småge have been motivated throughout by the desire to create something in their own region of western Norway.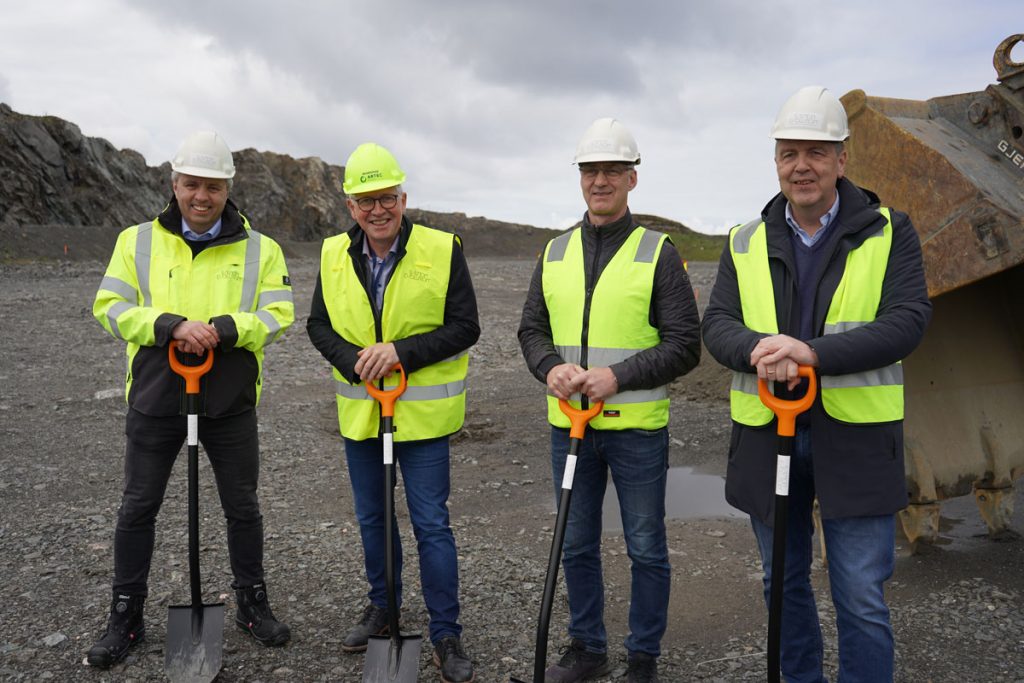 Founders.

From left. Ingjarl Skarvøy, Kristofer Reiten, Jonny Småge, Per Olav Mevold.

Photo: Doxacom
"The project will create many new jobs in itself, but the spin-offs are perhaps even more important," says Reiten. "Just imagine the experience we and all the others involved will secure through it. We'll be sitting on something unique."
"Technology development and new business opportunities will emerge, and the region will definitively be put on the map both nationally and internationally. It's a great joy to see machinery on site, but we won't be celebrating until the fish are in the tanks."
Important milestone
The first construction stage will provide the capacity to produce 9 000 tonnes of fish per annum, rising to 36 000 tonnes when the whole project is completed. Plans call for the first smolts to be in place during the fourth quarter of 2021, with harvesting starting a year later.
Acting CEO Håkon A. Berg is pleased to be finally under way with building a project which he believes will stake out the path for fish farming on land in the future.
"Starting construction is an important milestone for us, and a clear signal that land-based aquaculture will be an important supplement to conventional fish farms," he says.
"We'll be utilising clean and fresh seawater to provide optimal conditions for growth and good fish health. And we believe that utilising flowthrough technology with reuse will give us a lower risk profile than many other projects."
Salmon Evolution raised a total of NOK 258 million in March and now has a shareholder composition comprising strong industrial players, most of them with a regional entrenchment.
The company is thereby assured a financial and industrial platform which provides a good starting point for realising its ambitious growth plans in coming years.
For further information, contact:
Håkon A Berg
Acting CEO
+47 411 92 257