Salmon Evolution has announced that it has entered into an investment agreement  with Dongwon Industries, one of the world's leading seafood enterprises based in South Korea, whereby Dongwon will make a NOK 50 million investment to acquire a minority share in Salmon Evolution.
Under the terms of the agreement, the two partners further plan to enter into a partnership on jointly constructing a land-based fish farm in South Korea utilising Salmon Evolution's technology. They will also jointly consider future opportunities for scaling similar projects in other Asian markets as well as the North American market.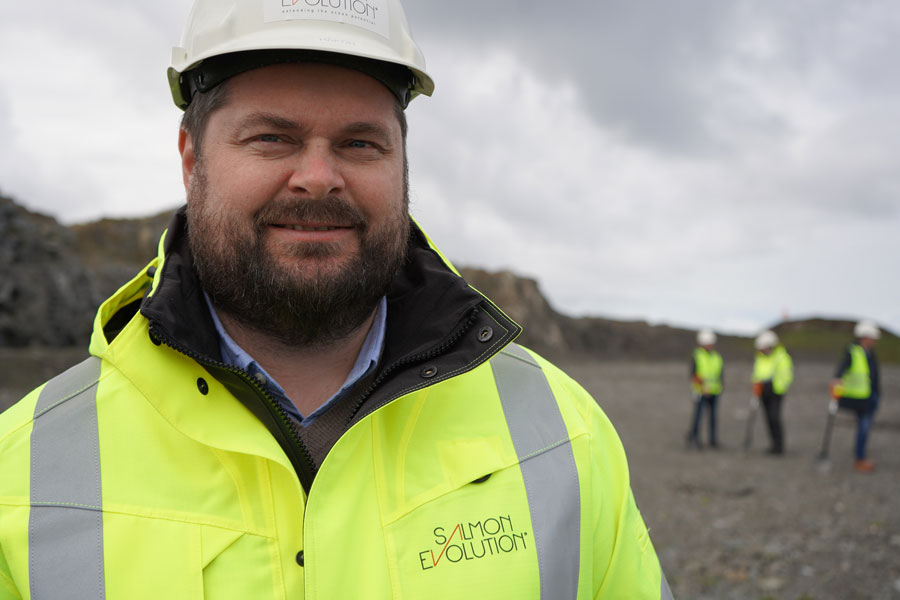 CEO Håkon André Berg. Photo: Doxacom
Dongwon Industries
"This is a very exciting opportunity for us" says CEO Håkon André Berg at Salmon Evolution. "Collaboration with a global player like Dongwon Industries will strengthen our commercial opportunities as well as giving us solid industrial support for scaling our concept in new markets."
"The dialogue with Dongwon Industries has been ongoing for some time, and it became clear for us that the company had the intention to invest in Salmon Evolution. However complications related to Covid-19 delayed the process, which makes it even more gratifying that we have now have an agreement in place."
"After assessing a number of projects for land-based fish farming enterprises, we concluded that Salmon Evolution represents the best investment and partnership opportunity in the sector," explains Kiyun Yun, Dongwon's CFO.
"We believe that Salmon Evolution's technology does the best job of recreating natural marine conditions while avoiding the many challenges faced by conventional fish farming in the sea."
Land-based fish farm
Salmon Evolution began in May the construction of a land-based fish farm in western Norway at Indre Harøy, Hustadvika municipality.
This facility will be based on 65 per cent reuse and 35 per cent supply of filtered and temperature-controlled seawater, which will contribute to optimal operations and substantially reduce risk compared with other types of land-based aquaculture using virtually full water recirculation.
On completion, the fish farm at Indre Harøy will have an annual production capacity of about 36 000 tonnes of Atlantic salmon.
"An investment by a large global seafood player sends a strong signal to the industry at this early phase," says Tore A Tønseth, chair of Salmon Evolution.
"Our existing owners have broad experience from the whole value chain for conventional aquaculture and a high level of expertise with the various technology concepts for land-based fish farming. The fact that Dongwon is not only investing in us, but also plans to enter into a partnership with our company, is a strong verification of our potential."
In addition to the value potential offered by building similar land-based farms in other parts of the world, Tønseth highlights the substantial sales and distribution opportunities which could come out of this partnership.
"This takes us a long step forward in the work needed to ensure scaling and access in a world market where quality and sustainability are becoming ever more important. Dongwon Industries will also be a strategic partner in our future distribution network."
Pareto Securities and DNB Markets have acted as financial advisors to Salmon Evoltuion in the transaction.
For further information, contact
Tore A Tønseth
Chair, Salmon Evolution
+47 958 06 277
Håkon A Berg
CEO, Salmon Evolution
+ 47 411 92 257
**
Dongwon in brief
Dongwon Industries (full-year 2019 assets of USD 2.6 billion, sales of USD 2.3 billion),  founded in 1969 as a parent company of Dongwon Group( FY2019 assets USD 4.9 billion, sales USD 6.6 billion), is a global top-tier tuna fishing company as well as the number one salmon trader in South Korea. Dongwon Industries operates global businesses such as StarKist, the leading canned tuna company in the USA and  fishing, tuna processing businesses  in Senegal.
Salmon Evolution in brief
Salmon Evolution is transferring the best preconditions offered by the sea to farm fish on land. The company's location at Indre Harøy in Hustadvika local authority ensures that it can adopt technology which is best suited to land-based aquaculture.
Flow-through technology with about 65 per cent reuse ensures an optimal production environment and minimises biological risk. Location, technology and industrial/technological expertise form the basis for sustainable production of 36 000 tonnes of salmon per year. The first construction stage began in the second quarter of 2020. Salmon Evolution aims to be a beacon for sustainable aquaculture.
New shareholder composition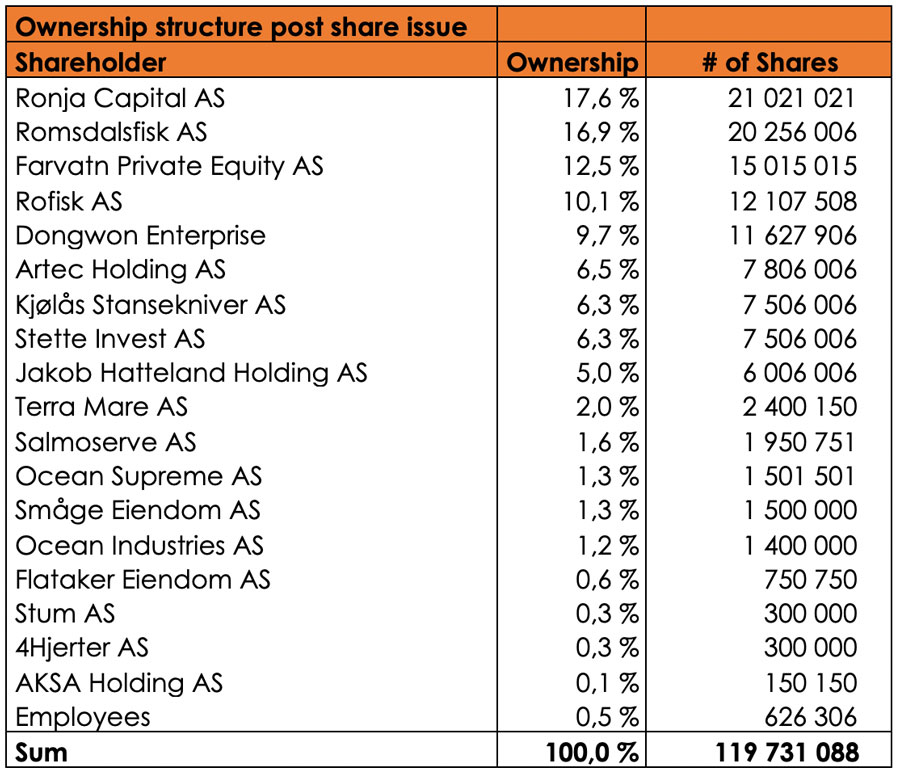 Technology
Flow-through with reuse ensures the best possible water quality for the fish while providing very low operational and biological risk. This approach is cost-effective in terms of both the level of investment and production costs.
Investment at Indre Harøy in first construction stage
NOK 1.3 billion
Annual production volume, Indre Harøy Site
Construction stage 1: 9 000 tonnes of salmon
Fully developed: 36 000 tonnes of salmon