All the shareholders. From left: Victor Fiveland (Artec Holding AS), Kjell Arne Småge (Småge Eiendom AS), Glen Bradley (Rofisk AS), Joar Sandøy (Rofisk AS), Kristofer Reiten (Romsdalsfisk AS), Jonny Småge (Romsdalsfisk AS), Frank Småge (Småge Eiendom AS), Frode Kjølås (Kjølås Stansekniver AS), Per Olav Mevold (Romsdalsfisk AS), Bjørnar Flem (Artec Holding AS), Peder Stette (Stette Invest AS) and Ingjarl Skarvøy (Terra Mare AS). Photo: Salmon Evolution
Salmon Evolution AS in Harøysund outside Molde has raised NOK 50 million through a private placement. This share capital will be used to design the first construction phase, organisational development and the appointment of key personnel as well as general company purposes. The issue fully finances the current phase up to the next share issue in the course of 2019.
Ownership with heavyweight expertise
Regional entrenchment and industry-based expertise have been the guidelines for the first share issue by Salmon Evolution.
"We're extremely pleased with the new owner structure," says Kristofer Reiten, chair of Salmon Evolution, co-owner of Romsdalsfisk AS – the principal shareholder in Salmon Evolution – and CEO of Vikomar AS. "Our aim with the first issue has been to secure a long-term ownership constellation with heavyweight expertise. We've succeeded with that."
Much experience from and long-standing involvement in ocean (or "blue") industries are concentrated in the new ownership of Salmon Evolution.
New shareholders elected to the board are Glen Bradley and Anders Sandøy on behalf of Rofisk AS and Frank Småge from Småge Eiendom AS as well as Frode Kjølås for Kjølås Stansekniver AS and Peder Stette from Stette Invest AS (both with key positions in Optimar).
Reiten remains chair of the company, with Per Olav Mevold continuing as a director (see the complete shareholder list at the foot of this release).
"With shareholders and a board which possess solid experience from building up and running strategically important enterprises in this industry, we're extremely well equipped to enter the more operational phase," observes Reiten.
Ready to pick up pace
He adds: "Farming salmon on land is not a straightforward business, and involves to a great extent taking some technological choices which will yield the most stable possible production environment for the fish and thereby provide predictable operation.
"We've taken the best conditions the sea provides with us to land, and have therefore chosen the flowthrough system and CO2 aeration as our concept. Alongside our unique location with access to unlimited seawater, this is the main reason why we can now pick up the pace into the next phase. We call this 'sea-based aquaculture on land'."
Wellboat giant looking ashore
Great interest has been shown in the issue. Reiten and Romsdalsfisk themselves participated with 10 per cent of the private placement.
Rofisk AS, which secured more than 13 per cent of Salmon Evolution, owns Rostein AS, one of the world's largest wellboat owners.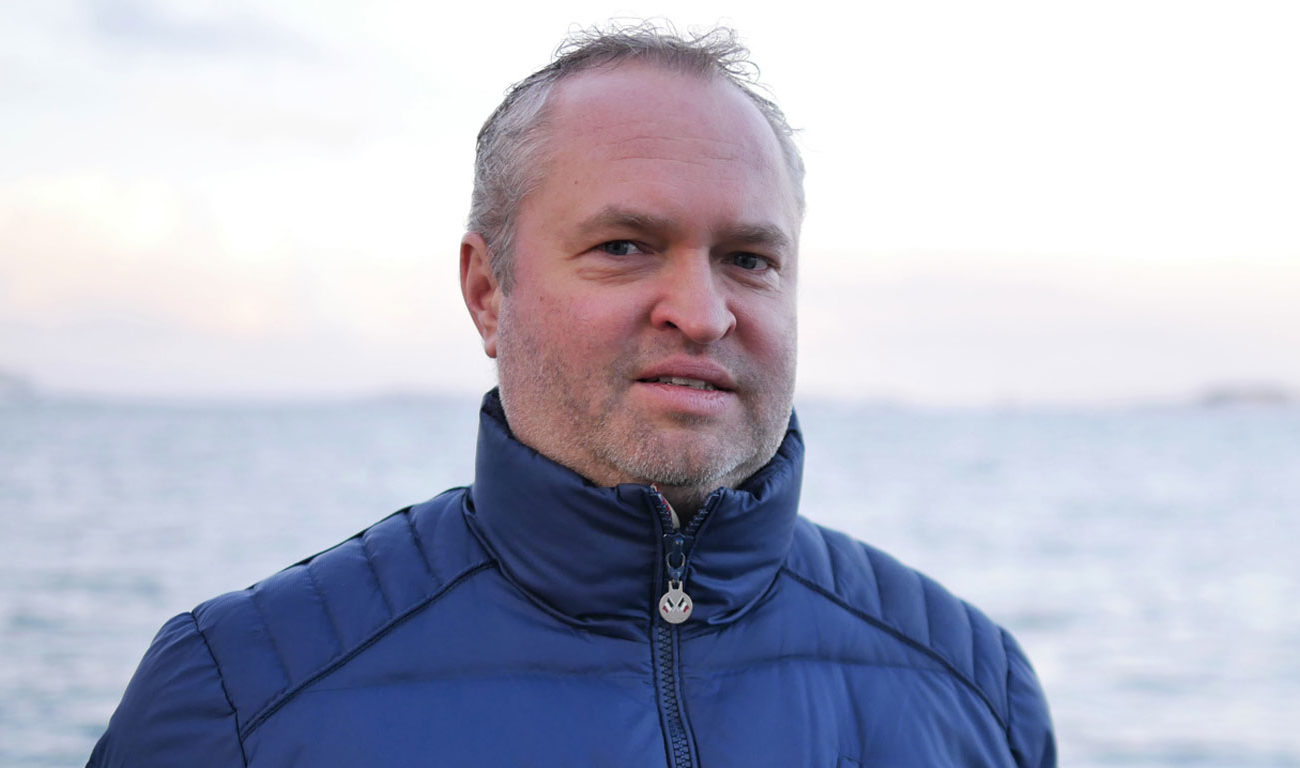 Glen Bradley, chair of Rofisk AS. Photo: Doxacom
"Our investment in Salmon Evolution is a clear signal that we want to contribute further to developing Norway's fantastic aquaculture sector," says Rofisk chair Glen Bradley. "Fish farming along our coasts builds on clean and fresh seawater and, with Salmon Evolution's location and choice of technology, we want to contribute to realising Norway's huge potential in aquaculture."
He regards the investment as an exciting opportunity, which will create jobs, much activity and new technology as well as commercial spin-offs in several industries. "It was a requirement for us that the project builds further on today's aquaculture industry, and we'll see many common denominators with regard to specialists, suppliers and customers. That will strengthen Norway as a leading seafood nation in world terms."
Contact information
Kristofer Reiten
Chair, Salmon Evolution AS
Mobile  +47 482 65 410
Mail   kris@vikomar.no
Glen Bradley
Chair, Rofisk AS
Mobile  +47 926 08 643
Mail  glen.bradley@rostein.com
Shareholders in Salmon Evolution AS
| | | |
| --- | --- | --- |
| | Contact | Shareholding |
| Romsdalsfisk AS | Per Olav Mevold | 60,0% |
| Rofisk AS | Odd Einar Sandøy | 13,3% |
| Terra Mare AS | Ingjarl Skarvøy | 10,0% |
| Artec Holding AS | Bjørn Finnøy | 4,0% |
| Kjølås Stansekniver AS | Frode Kjølås | 3,3% |
| Stette Invest AS | Peder Stette | 3,3% |
| Småge Eiendom AS | Frank Småge | 3,3% |
| Salmoserve AS | Glen Bradley | 2,7% |